JSC-A380
TDD-LTE All-In One Repeater Module
The TDD-LTE Repeaters for mobile network are to relay RF signals for both uplink and downlink, they are effective tools to enhance mobile network coverage for telecom operator, but there are one of the key technologies for the Repeaters with TDD mode must be first resolved, which is Frame Synchronization, without accurate & reliable TDD Frame Synchronization with BTS, the Repeater will be unable to normally switch between the different time-slots for uplink and downlink and working in harmony with macro network, even will cause big air-interference to macro network.
With ultra-low-noise RF front-end, TDD-LTE frame synchronization Module ,One chip based UDC architecture, JSC-A380 enables accurate, speedy and reliable frame synchronization with TDD-LTE BTS and working in harmony with macro network. It receives TDD signal from BTS and analyze the Signal's Configuration number ,Frame length and acquire the accurate switch point between UpPTS and DwPTS.
JSC-A380 TDD-LTE All-in-one module is designed for small/medium business and home users looking to enhance TDD-LTE indoor wireless connectivity.
JSC-A380 is integrated Front –End Unit(FEU) ,Up-Down Converter(UDC),Power AMP and Sync Detection Module (TSR-T1) designed to meet the TDD-LTE RF Repeater requirement of indoor FEMTO , PICO Repeater.
The JSC-A380 provide all the function of standard repeater system exclude Band Filter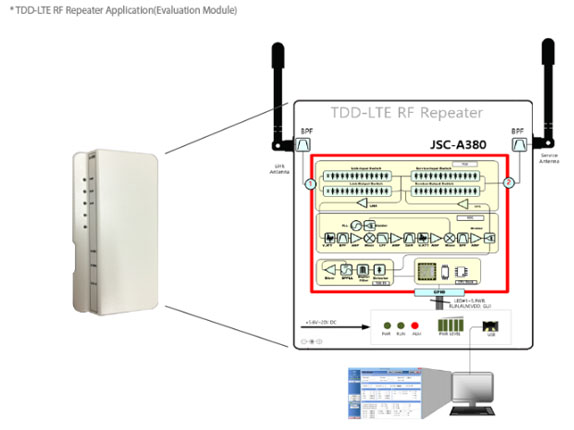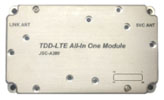 Key Factor
- Support single band TDD-LTE 2300Mhz,2600Mhz
- All-in-one Module
ㆍBuilt in TDD-LTE Frame Synchronization algorithm for TDD
system to ensure accurate synchronization and eliminate
interfere to macro network
ㆍOver 105dB extremely high isolation TDD Switch block to prevent
ㆍpower saturation even at high gain environment.
ㆍSpecially designed high integrated One-chip based Low noise
ㆍUDC Function
Built in processor for repeater management
(Isolation Check, AGC, ALC, LED interface, GUI interface..)
Extremely small size : 9.2cm(L) x 5.4cm(W) x 2.5cm(H)
- High working gain up to 80dB
- RF output power up to +24.5dBm with built in internal amplifier

- Flexible TDD UL/DL Allocation configured by software automatically

ㆍConfiguration number 0 to 6
ㆍFrame length number 0 to 8
- Innovated Digital filtering and advanced baseband processing algorithm to provide accurate AGC,ALC and power control

- Automatic Gain Control algorithm by software continuously monitors path loss and transmit power to deliver max gain
- Automated isolation check function guarantee trouble free operation