JSC-A480
4G(TDD-LTE) Signal Booster/Repeater
What is Cellular Repeater?
A cellular phone signal booster (also known as a cellular repeater ) is a system which takes an existing cell phone signal, amplify it, and then broadcasts it to an area which is not currently receiving quality signal. A typical cell phone signal booster system consists of an external antenna, which is placed in the area of best signal, an amplifier to boost the existing signal, and an internal antenna, which broadcasts and receives signal in the area which currently does not have it.
All of those components are connected together with high quality cable, and are sold as a complete cell phone signal booster kit.
A JSC-A480 is specially designed and have different architecture with conventional repeater.
» World Smallest TDD-LTE Repeater which compliance with 3GPP requirement| Only one|
» Used one chip based high integrated semiconductor chipset | Advanced Technology |
» Self organization software check the mobile signal environment and control the Repeater | Smart AI algorithm |
» Repeater work perfectly even 1 bar signal somewhere in your home | Great performance |
» Trouble free operation with fully automated system | Pug & Play |
» Field proven technology in China, India , North America
Details
» The JSC-A480 is the ideal solution for situations where you need to cover a large number of people and where cellular calls are a important service.
» The JSC-A480 supports the 4G networks from all major carriers giving you fewer dropped calls, exceptional voice quality, and fast 4G data speed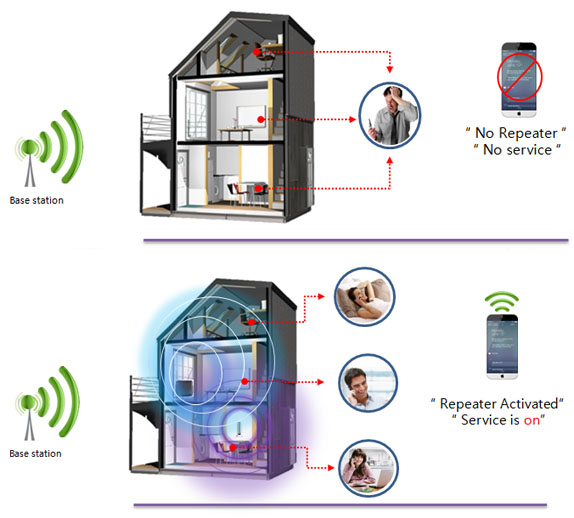 Key Factor
- Easy to Install:
JSC-A480 is not required external antenna and considering the signal conditions when you install the repeater. You just "Plug the power" and let the system configure automatically.
- Keep the network connectivity :
You can enjoy the TDD-LTE call and web browsing in your bed and anywhere in your home
- Enhanced network speed:
You can download data , picture, movie more than 4 times faster
- Extend Battery Life:
Due to strong 4G signal, cell phone consume less power
- Trouble Free Operation :
Smart Ai algorithm check the signal environment and control the amplifier to maintain stable operation .